Our abilities concerning assembly applications bring our customers a complete process benefit.
We can assemble components of any type – plastic parts, adhesives, stoppers, shieldings, foams, nuts, bolts, etc. whether the customer provides them or we take care of supplying directly by our long term partners authorised by the customer.
Inhouse designed assembly lines
Assemembly department includes fully automated, semi-automated lines or single workstations depending on the specific product. Most of our automatic assembly lines also include automatic EOL inspection lines for product specifications. Each product has its own dedicated assembly line custom designed to its specification. All of our connector assembly processes are developed inhouse to meet the customers' specific requirements in the highly demanding automative field.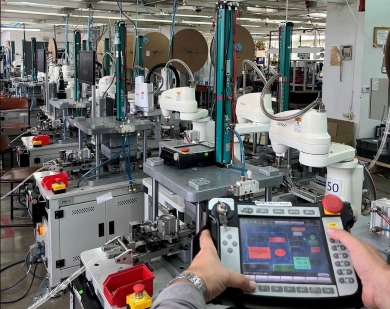 Toxing
Toxing joining method has a quite wide range of application especially in consumer electronic and automotive industries.Cost saving is the significant benefit of application as no need to a further fastenning component.Our teams have a great experience in this field for many years. Toxing is applied by robot based automation in our company.